VCT: Game Changers NA & EMEA – Final Results & Winners
---
The VCT: Game Changers finals concluded over the weekend, bringing some surprising results in the EMEA region, while Cloud9 continued their dominance of NA. The events brought both prestige and attention to a segment of the Valorant competitive community that sees little support from the scene overall, and it led to some exciting moments for upcoming talent in tier 2 Valorant. Hopefully, we'll be able to see more competition come from competitors at other women's and open competition events, but the VCT: Game Changers finals really showed how competitive this scene is in both NA and EMEA.
That being said, let's look at how the grand finals for both events concluded.
VCT: Game Changers EMEA Crowns First Champion
---
Many speculated that this event would be dominated by the former XSET CSGO squad competing as 'The Originals,' composed of female CSGO pros juliano, mimi, ZaaZ, and Petra along with former Rix.GG Lightning's aNNja. It's a prediction that we made as well, but it turns out that The Originals would fall short to TENSTAR Nova, another team we predicted to go far in VCT: Game Changers EMEA.
The grand finals of VCT: Game Changers EMEA came down to a tense showdown between TENSTAR Nova and Rix.GG Lightning. The second game on Bind would see both teams trading rounds as the game went to a total of 34 rounds before Rix.GG Lightning managed to secure a 2 round lead, ending the game 18-16 in their favor.
Other games in the match would see TENSTAR Nova completely shutting down the international crew on Ascent and Haven with TENSTAR winning those games 13-3 and 13-2 respectively. It's a huge win for the French squad who have been posting impressive results at community tournaments and could show off their talent at the inaugural EMEA Game Changers event.
VCT: Game Changers NA – Threepeat for Cloud 9 White
---
We suspected that many of the teams at VCT: Game Changers Series 3 for NA would struggle against the defending champions, Cloud 9 White. While we would see some new faces at the playoffs stage, a majority of the teams were returning from Series 1 and 2, leaving little new competition for the Cloud 9 ladies.
The grand finals of Game Changers NA saw a tense and close matchup against Shopify Rebellion. Cloud 9 White would post close wins on Icebox and Ascent before Shopify Rebellion mounted a comeback on Haven with an impressive 2nd half that saw them take a game off Cloud 9 White.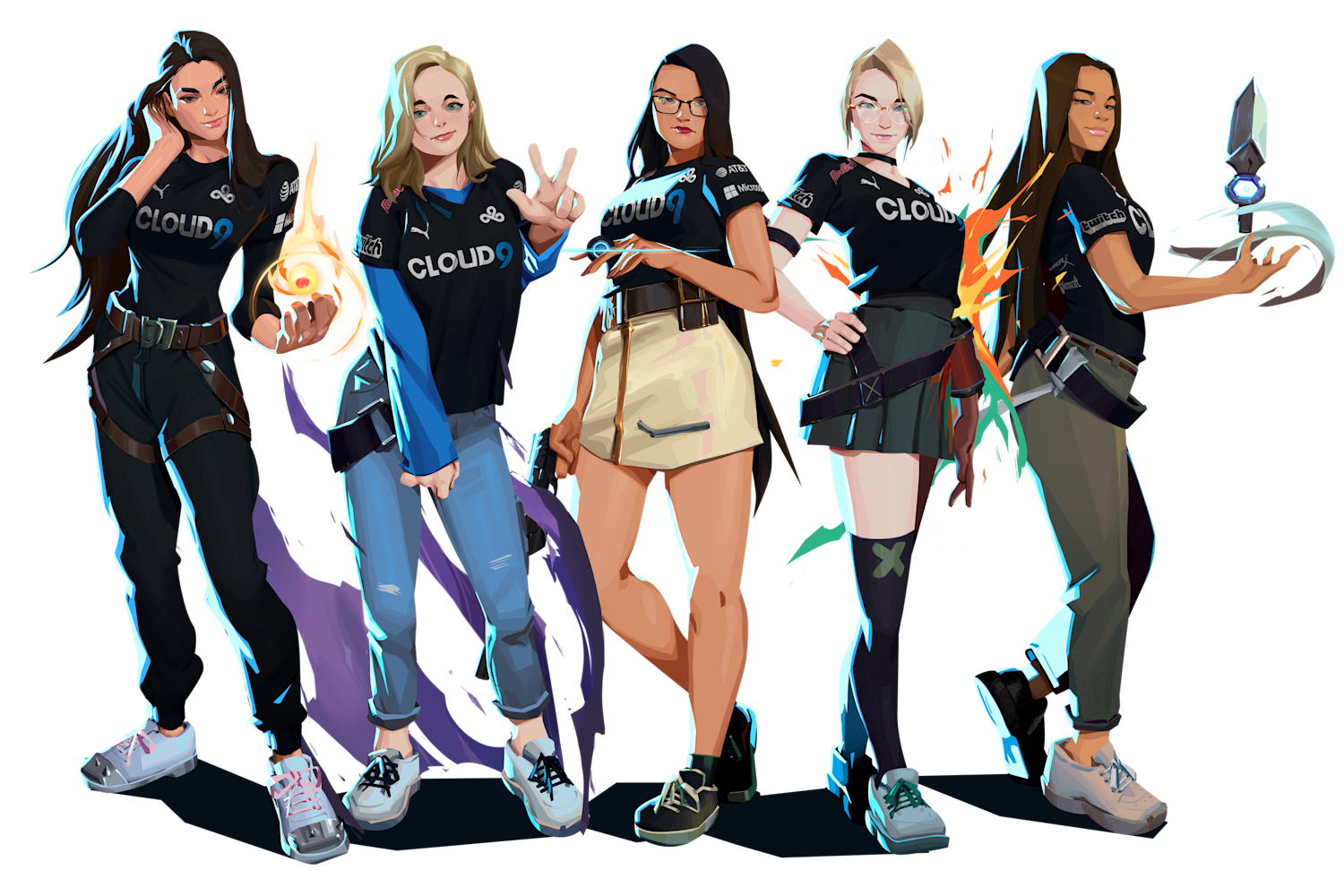 Bind would be the final map between Shopify Rebellion and Cloud 9 White as C9 would close out the event 13-6 and post some of the best stats overall for the entire tournament.
As the three-time champs of VCT: Game Changers NA, it's likely that teams in their region will be hard stuck against the squad and will have to seriously up their game to dethrone them. The three-peat victory for C9W also sets up an interesting storyline for any international competition that may arise within the Game Changers brand.
If you're still itching for more Game Changers action, the SEA Elite series will be underway later this month as some of the best teams in the SEA region compete for a $25,000 prize pool. These matches have been just as exciting as VCT Masters events and really shows the excellence of execution that exists in Women's Valorant.T