Valorant's 'Nunca Olvidados' Skin Collection Celebrates Dia de los Muertos
---
It's very seldom that video games observe holidays outside of their country of origin, especially here in North America. For the Mexican holiday Dia de los Muertos, or Day of the Dead, only two games come to mind that have observed the holiday in the past. Both Pokemon GO and World of Warcraft have created seasonal events based on Dia de los Muertos, with Pokemon GO hosting a Dia de los Muertos event in Latin America and World of Warcraft making Day of the Dead an in-game holiday event, complete with costumes, achievements, and other special items. Now, Riot pays homage to the popular Latin American holiday with a new line of weapon skins for Valorant called 'Nunca Olvidados.'
Celebrate the Day of the Dead With Valorant's New Skin Line – Nunca Olvidados
---
The new Valorant Nunca Olvidados (Never Forgotten in English) weapon skin line does such a phenomenal job bringing the colors of the holiday to life with the color palette and visual designs that go beyond the typical candy skull, marigold flowers, and butterfly visual motifs that many like to incorporate into visual designs themed on the holiday.
The Nunca Olvidados weapon skins all share the same design of a rather contemporary take on the Calavera Catrina, or the fancy skull lady, to put it simply. The weapons shift between a Day/Night version depending on the light level of where you are on the map, switching from the warm hues of autumnal orange, harvest red, and royal purple to a bright, neon color swap featuring a vibrant electric blue and purple, understated by a slight mauve accent.
Unfortunately, this new weapon skin line does not include new bullet sounds, a new ADS crosshair design, or new animations, but the skins do look cool and evoke the feel of street art murals you would see in places like Mexico City or in Huntington Park. The skin designers at Riot games have made sure to be respectful of the visual motifs of Dia de los Muertos while bringing in contemporary Latinx art influences into the design of the Nunca Olvidados skins.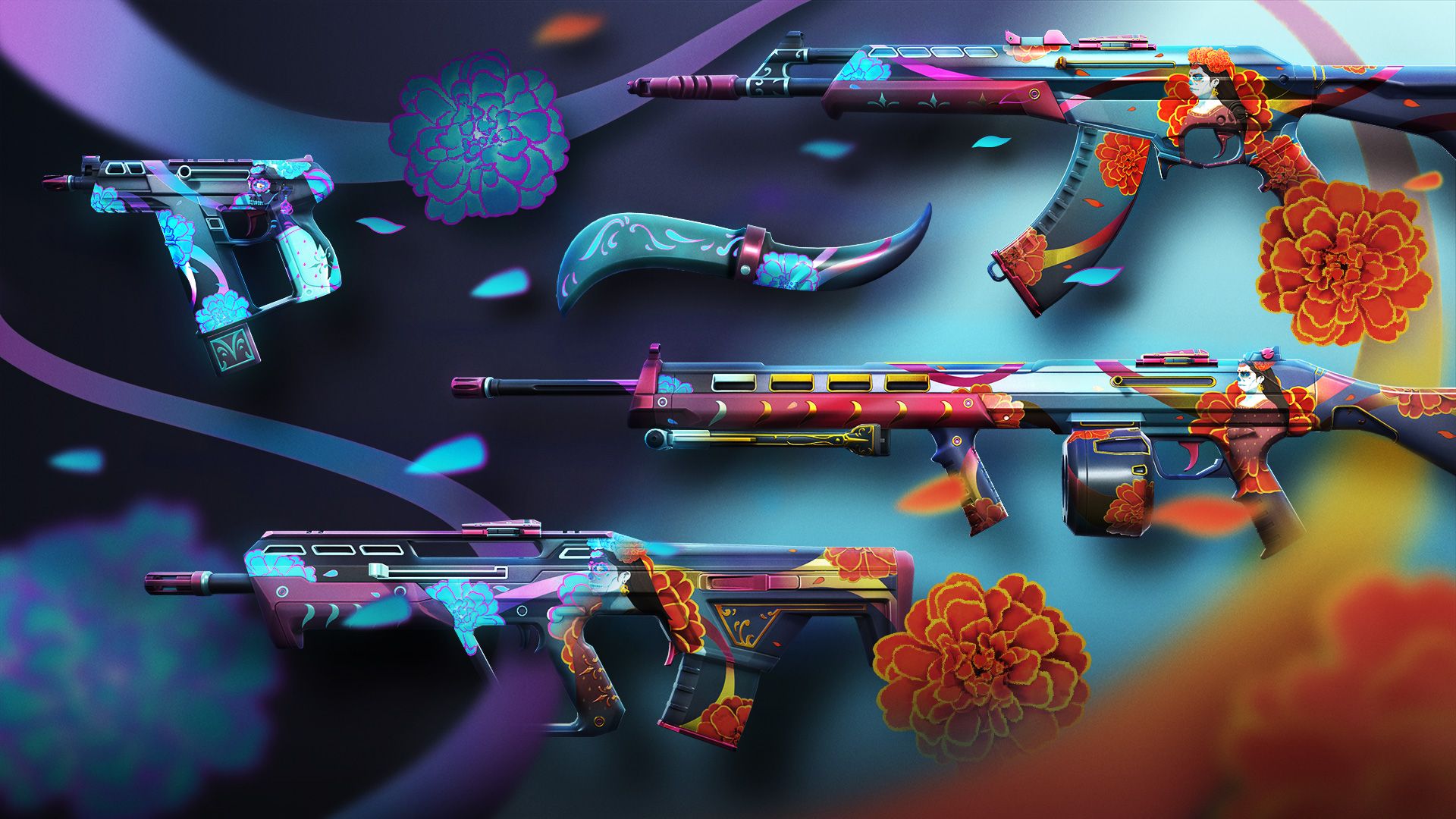 The Nunca Olvidados weapon skins are applicable to the following weapons:
Ares
Vandal
Bulldog
Frenzy
Catrina Knife
The Catrina Knife should look familiar to any older Nortenos out there as the weapon has historically been seen and used in the North Mexico and Southern Texas regions of North America for hundreds of years. Indeed, Riot art lead Sean Marino would admit that the Catrina knife was inspired by the traditional saca tripas knife of Mexican culture in a brief statement to Dot Esports.
The Nunca Olvidados skin bundle also comes with a player card featuring Reyna dressed in traditional Dia de los Muertos garb complete with calavera face paint. For someone with a lot of relatives back in Mexico, it's actually kind of nice to see a popular game make an earnest effort to celebrate something that brought the family together.
Valorant players can pick up the Nuncas Olvidados weapon skin bundle for 5100 Valorant Points once it launches in the Valorant store on October 20.