Hunden Banned From CSGO For Two Years by ESIC
---
This is not the first time we've talked about the drama surrounding Hunden in CSGO, but it's now lead to him being banned. Back in 2020, we talked about Hunden being one of the people banned from CSGO for an observer bug exploit. He had a 10-month ban and now we're back to talk about Nicolai "Hunden" Peterson about his time on Heroic. Allegedly, he leaked sensitive information to a competitor ahead of IEM Cologne without his team knowing. That's the nature of a leak though. The ESIC (Esports Integrity Commission) has done an investigation into the situation and this had led to Hunden being banned from CSGO for two years.
"Extensive Investigative Efforts" – ESIC
---
Thanks to a forensic expert firm, Frend, the ESIC made sure "extensive investigative efforts" were made to get to the bottom of this. There was an examination of Google Drive records, interviews with members of the Heroic management and opposing team, and more. What's interesting, is that Hunden was negotiating a move to the team the information was leaked to, but that team name was not given. In the findings notification on the ESIC site, they also cited something that was considered an admission of guilt: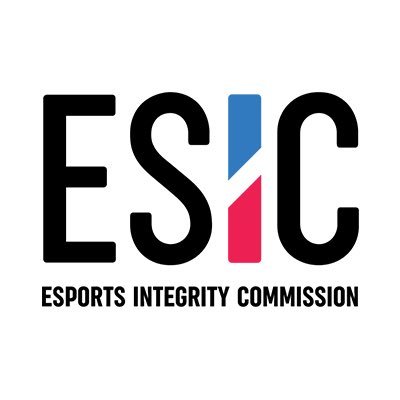 "On 28 July 2021, Mr. Petersen had made a public statement via his Twitter account in which he stated… "The material I have shared is anti-strat material of opponents…". ESIC viewed this public admission, in conjunction with the evidence collected in the course of our investigation (described below) as sufficient grounds for a prosecution under ESIC's Code of Conduct which applied to this situation by virtue of it occurring during the period of and related to the ESIC member event, IEM Cologne, and in which Mr. Petersen's employer team, Heroic, was competing."
In a recent interview, Hunden claimed that the ESIC chose not to hear him and he was threatened with a five-year ban if he appealed. The ESIC refutes this, saying, "To date, Mr. Petersen has failed to provide ESIC with any reply of substance relevant to the charge made against him," and he was repeatedly asked to respond to the charges since August 19th, 2021. ESIC did however say that the two-year ban was a "please bargain in good faith." Would Hunden appeal, there was a chance of a higher sentence. That would be at the discretion of the Independent Appeal Panel. Those people might decide he needed to be banned longer, which makes sense.
According to the ESIC's evidence, the material that Hunden shared was never accessed. Despite that, he was employed by Heroic and was reportedly in talks with the opposing team, and they were going to be attending the same event (IEM Cologne), the ESIC came to the following conclusions:
"Created a threat to the integrity of an ESIC member event (irrespective of whether or not that threat materialized);
"Created a threat to the reputation of an ESIC member (irrespective of whether or not that threat materialized); and in doing so
"Threatened harm to the reputation and competitive integrity of esports, and ESIC's member ESL."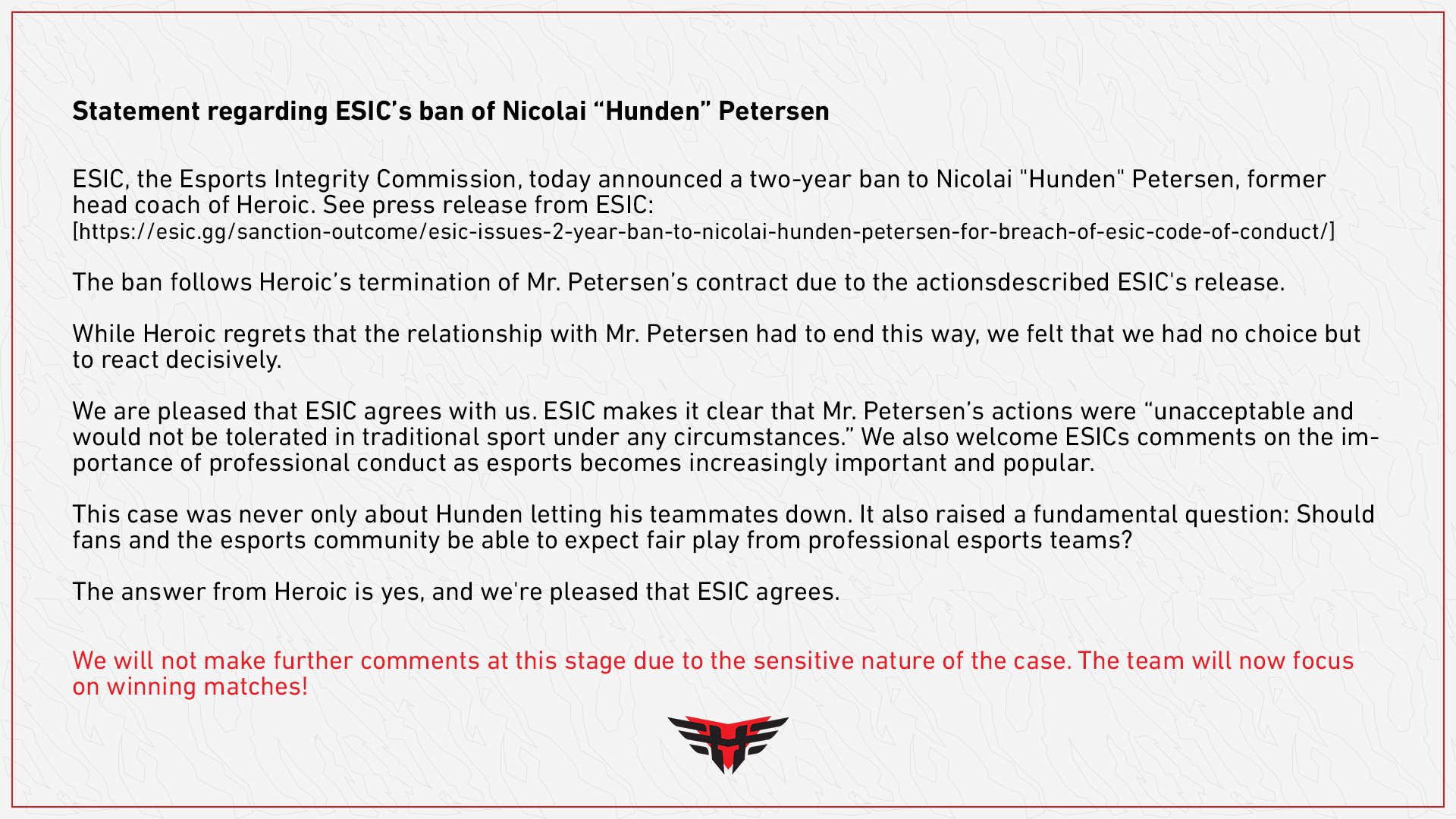 With this in mind, Hunden will be banned in CSGO until August 24th, 2023. Like in previous bans, this includes ESL, DreamHack, WePlay, BLAST, LVP, Nodwin, Eden, Relog, UCC, Allied, Kronoverse, Estars, and 247 Leagues. This situation is really unfortunate, and one that could have been avoided by simply not sharing information. In late July, Hunden revealed he was looking to move on from Heroic after his contract came up.
Just a day later, Hunden made a serious statement on their website, accusing Hunden of blocking the team members' access to the strategy folder for the team. Hunden's actions and lack of trust were reported to ESL and ESIC, and he had his contract terminated. We probably haven't heard the last of Hunden's previous charges (spectator bug). During the previous interview, he claims that some of the Heroic players knew he was using the spectator bug. This contradicts his original statement, saying he worked alone. If this is true, and if the ESIC investigates, we could see punishments handed out to Heroic. This could also be a move made out of spite, but ESIC would likely get to the bottom of it. We will keep you up to date as that story develops. It's unfortunate that another CSGO coach or pro has been banned for misconduct.