Hearthstone Announces Next Expansion "United in Stormwind"
---
Hearthstone is bringing players to the heart of the Alliance, with the United in Stormwind expansion! It's coming on August 3rd, 2021, and will have 135 cards! These cards are inspired by the rites of passage shared by heroes, as they take on adventures in the glorious city of Stormwind. We've had plenty of Horde-based content in Hearthstone so far, so having more Alliance content is sure to make a chunk of the playerbase happy. There are also going to be major updates to Battlegrounds, and the Fire Festival is going to return!
Mount Up In Stormwind
---
Going to Stormwind for this expansion makes sense. Now that we've left the Barrens, it's time to stand United in Stormwind for the next Hearthstone expansion. There are some seriously cool additions coming to the game, that promise to shake things up in exciting ways. Mounting, Professional Tools, Tradeable items, and so much more are here. So what can we expect?
Questlines are the natural evolution of the old Quest cards. Questlines are three-part quests, that offer a peek into the stories of Hearthstone's newest mercenary heroes. You'll begin a match with your Questline cards in hand, and completing a step results in a reward. Complete all three, and the new mercenary joins your side as a Legendary minion! Love this concept already as a way to get cool, game-changing Legendary minions.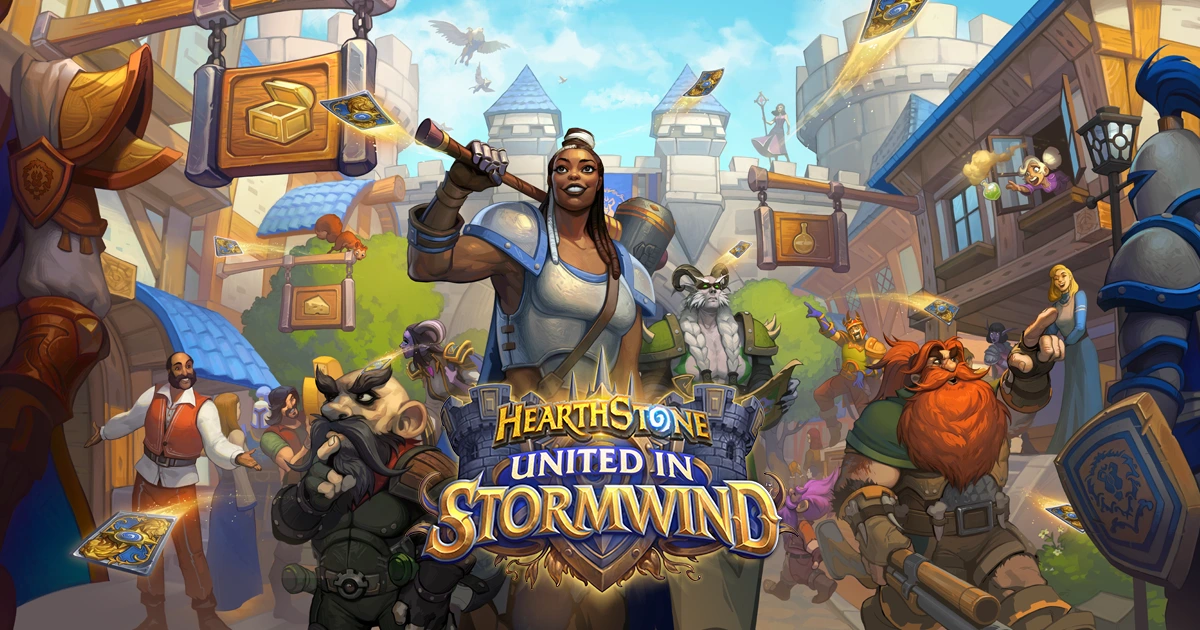 This is hardly it though. Mount spells will be available, which give a minion a powerful, useful buff. Once that rider is destroyed, you summon the mount itself, with the stats that fit the original buff. I'm a sucker for cool buff decks, and I'm looking forward to awesome Paladin mount decks. There's also a new keyword: Tradeable. After the Goblins always say, "Time is money, friend!" You can add Tradeable cards to your deck. You can either play them for the normal effect, or you can drag them back in your deck for just 1 mana and draw another card that might be more useful. It might not though!
Finally, there are also Profession Tools! Profession Tools are new weapon types, that have special effects instead of attack stats. One of the examples given is Paladin's Prismatic Jewel Kit. This boosts the attack power of minions in your hand whenever a friendly minion loses a Divine Shield. You can probably already see the practical applications. These ought to be really interesting, and since they're Profession based, are hopefully not high rarity.
Fire Festival and Battlegrounds:
---
The Fire Festival is coming back this month as well and is filled with great content. This year, Ragnaros is throwing a house party in the Firelands, and we're all invited! There will be new Legendary quests, and fan-favorite Tavern Brawls coming back from July 6-27th. There will also be more additions to the Book of Mercenaries and Book of Heroes. Book of Mercenaries – Kurtrus begins on July 13th, and is the story of Demon Hunter Kurtrus Ashfallen. There are 8 bosses in this adventure, and the reward is 1 Demon Hunter Pack.
Book of Heroes – Gul'dan is next on July 20th. Calling Gul'dan a "Hero" might be a little generous. But in this you relive Gul'dan's quest for power, across 8 bosses. The reward is 1 Warlock Pack. Finally, there are updates to Battlegrounds! A huge update is coming, with the largest minion pool shakeup since launch. There are new cosmetics also on the way. A few bundles are available:
The Battlegrounds Bundle: Beach Party includes seven new portraits of heroes enjoying some fun in the sun, such as Grill King Bolvar and Chillin' Vol'jin. The bundle also includes Tikilord Ragnaros, a fully-voiced alternate Bartender who serves up drinks with a scorching attitude.
The Battlegrounds Heroes: Shadowlands bundle includes eight heroes reimagined as members of the Covenants featured in the afterlife-themed World of Warcraft: Shadowlands expansion, including Finley of the Kyrian and Ysera of the Night Fae.
Pre-purchasing for United in Stormwind has already begun, and we're very excited to see what the expansion holds. It sounds like we'll be seeing some huge changes in the meta for Hearthstone thanks to the United in Stormwind expansion, and that's wild.