Fortnite Daybreak Survival Game Mode Reportedly Leaks
---
Fortnite is a battle royale game at its core, but it has branched out into so many different genres and game modes beyond that idea. A lot of this has come from the Creative mode, but also what Epic Games creates. It looks like there is a new game mode coming officially known as Fortnite Daybreak.
Fortnite Daybreak Game Mode Reportedly Leaks
---
This new Fortnite Daybreak game mode is not guaranteed to release in the future as it has only been reportedly leaked by various data miners out there. Sources of the leak come from some of the most prominent leakers, like trusted source HYPEX as well as many others.
Various details have come out about the reported Fortnite Daybreak game mode through these leaks, especially after the launch of the most recent update for the game in season 6. The new update brought with it some changes to the game, minor new content, and fresh leaks to discover.
It didn't take long for HYPEX to find more details about the Fortnite Daybreak game mode, including the fact that it is primarily a PvE-focused survival game mode. In this mode, players will have to use the traditional Fortnite gameplay to survive on a map and escape to win it.
It is completely different from the usual battle royale idea where you are, yes, trying to survive but by taking out the other players on the island, building with the materials you gather, and outrunning the storm until you are the last player and/or team standing.
Daybreak Is a Survival Game Mode on a New Map
---
However, the Fortnite Daybreak game mode is reportedly going to focus more on having the players work together to survive a la Minecraft and other similar titles, instead of trying to eliminate everyone. The mode will even take place on a brand new open world map that is different from the island we already know and love.
Images of the map and the different locations that you will be able to visit have been reportedly leaked recently. We can see that it visually has a similar style to that of the main chapter 2 island that we are traversing across in season 6 matches right now.
How each match of the supposedly leaked Fortnite Daybreak game mode will work is that players will find themselves stranded on this new island with no indication of how or why they are there. The only goal that players will have on this island is to escape from the place intact.
You will likely start out with nothing in your possession and will have to scavenge, build, and craft in order to survive what is coming. It is currently unknown what sorts of creatures or animals that you will have to deal with in this supposed mode, but we can imagine a few different types.
How to Survive and Win the Game Mode
---
It is possible that Epic will lean on the animals that have recently released in season 6, like the raptors and wolves, as well as the undead horde that have been part of Fortnite for a very long time to be in this mode. Whatever the enemies may be, players will need to survive against them.
You will need to find and/or craft weapons, create a shelter to survive the nighttime, and potentially connect with other players on the island. Even if you queue up with some friends, it is reported that the squads will be split up at the onset of the match and have to find each other.
This more PvE-focused game mode will likely encourage players to find others and work together to survive in order to win the match. But it is currently unknown whether or not you will still be able to eliminate other players you come across, which would add an extra element of danger and strategy.
How you escape and win the game, according to the leaked files that have apparently revealed its description, you will need to use a helicopter. Players will have to find the parts to repair the Choppa and leave the island before the storm closes in on the third night of the match.
As mentioned, it seems like this is a nice mix between survival crafting games like Minecraft and other survival titles like Dead by Daylight. You have dangers to avoid during strict time limit for the match while trying to survive and still repair the Choppa to get out of there, hence the emphasis on teamwork.
Daybreak Glider Umbrella Skin Also Leaks
---
To further emphasize this new Fortnite Daybreak game mode, other files have also leaked, like the winning umbrella. Usually, in battle royale seasons, there is a new umbrella glider that players will be able to unlock by winning just one match while the season is happening.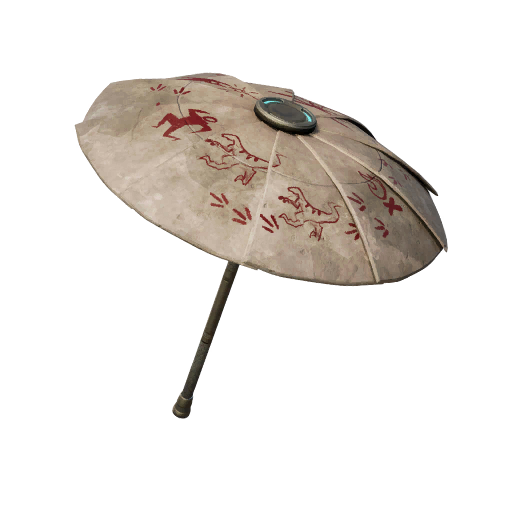 There is a Daybreak escape umbrella skin that has leaked in the backend, showing that there is already a reward in place for those who are able to successfully escape the island via the Choppa. With so much information about this mode now available and clearly seen, it seems that this is close to completion.
As such, it is possible that Epic Games is gearing up to release the new Daybreak game mode in the very near future. However, it is possible that we will have to wait a good while longer before then. We could easily see this be a new addition in the next season, season 7, of Fortnite. With season 6 now entering its ninth official week, there is only one more week left until the end for normal battle royale seasons. Even if it goes a few more weeks after that, we imagine that this sixth season only has about a month or so left until the beginning of the end. But that, hopefully, also means that we will hear more about Fortnite Daybreak officially