FIFA 21 News | A Closer Look at TOTW 22 Best Cards
---
Another week, another set of FIFA 21 team of the week card sets. This time around, we have a big one! Yep, you've probably seen it by now – Cristiano Ronaldo is coming in strong with a 95 OVR IF card. That's the one you'll want to pack this week; that's the biggest card of FIFA 21 TOTW 22, for sure!
Best FIFA 21 TOTW 22 Cards
---
But, we won't stop there. In addition to the superb C.Ronaldo IF card, we also have three excellent Premier League stars, two of which have found their way into TOTW 22. Not to mention that wicked 85 OVR Vazquez card for La Liga fans.
C. Ronaldo – ST – 95 OVR
---
Obviously, Cristiano Ronaldo is the first name on the team sheet this week. It's not the best CR card ever, but it's definitely up there with the best of them. 95 OVR rating in striker position; and just look at those stats.
Connection-wise, either Portugal, Serie A, or Icon-packed squads. They'll all greatly benefit from this monster. If you enjoy playing with the regular Ronaldo card, and TOTY is too expensive for your taste, this is the compromise you've been waiting for!
The price of this card is roughly half of Ronaldo's TOTY 98 OVR price. Around 5 million coins, to be more precise… though you might end up paying more for it if you're playing on PC. Is it worth it? Well, If you have the money, test it out – I'm sure you'll have an absolute blast.
Rashford – LM – 89 OVR
---
Marcus Rashford has developed into one of the best strikers in the Premier League. His recent masterclass performances resulted in a brand-new IF card. That's the third one yet. Stats-wise, it's absolutely crazy. 95 pace, 89 shooting, 89 dribbling, 86 passing, and 84 physique. Add to that 5-star skill moves and you'll need no further information.
Obviously, such stats are reflected in the price tag. You'll have to set aside roughly two million coins to get the English attacking menace into your squad. Could this be the best ePL striker this season? Well, it's not far from it, that's for sure!
Bernardo Silva – CM – 89 OVR
---
I love creative midfielders, and this Bernardo Silva card offers exactly that! Manchester City is an absolute force to be reckoned with in the Premier League, and it was about time one of their most consistent players gets another upgrade.
Bernardo Silva can run on and off the ball, he can dribble like the best of them, pass it like it's hot, and shrug players away with 70 physique. You'll have to spend around 200,000 coins to get him. That's slightly more than base Kante, so Silva better be worth it!
Lucas Vazquez – RB – 85 OVR
---
Next up, Lucas Vazquez! This is his second in-form card this year. This time around, it's an 85 OVR RB beauty, featuring solid all-around stat and great connectivity options. We're not looking at anything fancy here – just your standard La Liga Spaniard… though you can easily make a good connection with just one icon since he's a right back.
Mavididi – LM – 81 OVR
---
Here's an interesting FRA 1 IF card with great linking connections. Mavididi, 81 OVR LM. This 22-year-old Englishman is doing wonders for Montpellier, and his new IF cards could be a beast in disguise. 95 pace, 80 shooting, and 71 physique. It's not the best, I know, but he's literally at the quick sell price already so go ahead and test him out.
Keep in mind, though – Mavididi is not pricey, but he's not exactly good with his feet either. Three-star skill moves and two-star weak foot – not really worth your while unless you pull him from a pack and use him for your SBCs or objectives.
Other Notable Cards
---
First things first, let's address why Handanovič isn't featured on the list above. Well, I don't like IF keepers; that's about it. I think it's silly to spend hundreds of thousands on IF goalies. Maybe it's just me. Maybe everyone thinks the same. I guess we'll never find out…
There's also another honorable mention here – Real Sociedad's Isak. Even though Sociedad got eliminated from the Europa League, courtesy of Dinamo Zagreb, the prolific Swedish striker got a pretty awesome IF card. 85 pace, 82 dribbling, 84 shooting, and 73 physique. Not bad for a card that's not going to cost much above quick sell value. You can check out the entire TOTW 22 set below.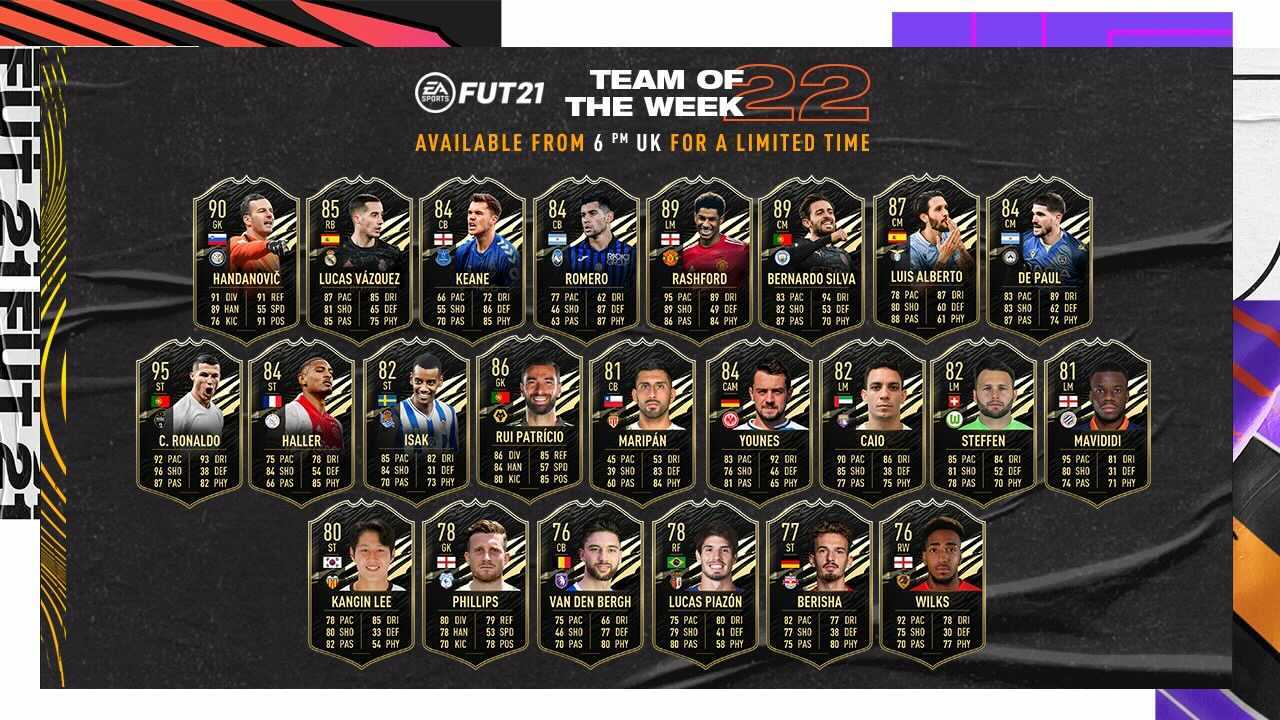 ---
That'd be all for our TOTW 22 news piece. Joins us next week when we'll discuss the all-new TOTW set!