2021 Overwatch League Postseason Events to Relocate to Hawaii, Live Audiences No Longer an Option
---
If you were hoping to attend the upcoming 2021 Overwatch League playoff events in-person, we have some bad news: Blizzard has decided to nix live audiences because of the ongoing COVID-19 pandemic and the surging delta variant. This is definitely the right course of action, but is nonetheless a heavy blow — one of many that has been dealt to both Blizzard and competitive Overwatch as a whole.
"Since we originally announced plans for the postseason, the environment has changed significantly. After continued consultation with our teams, we are no longer confident that all of them would be able to travel to the United States with their full rosters. We have therefore decided to pivot from live events centered around Dallas and Los Angeles and will instead return to Hawaii for postseason competition," Blizzard said in an official statement.
It seems that we'll all have to wait a bit longer before things can fully revert back to normal.
Blizzard Just Can't Catch a Break
---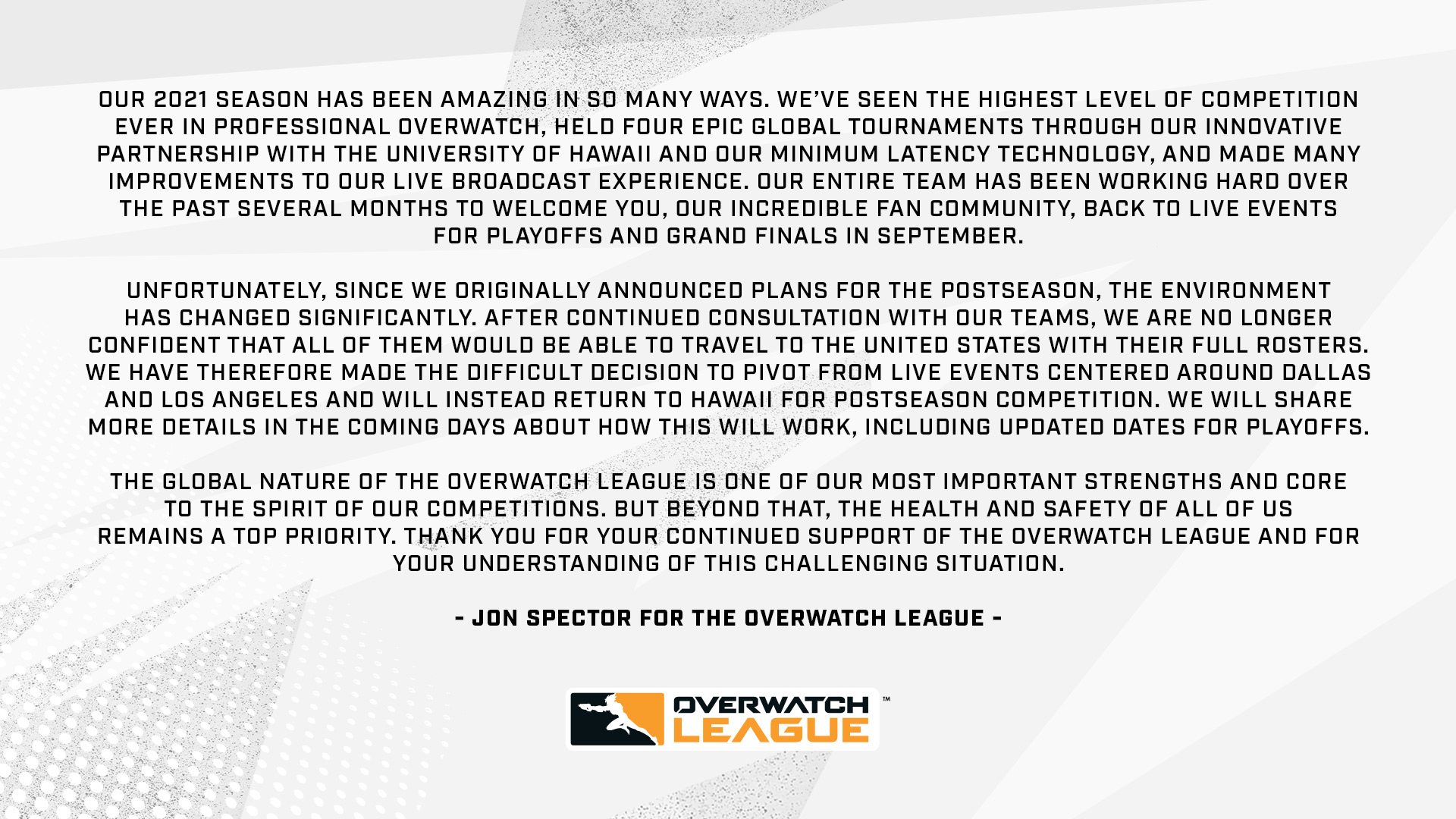 This is no doubt a crushing development for anyone wanting to go to any of the 2021 Overwatch League post-season events, but player health and safety has to come first; visa issues and the constantly evolving state of the pandemic have hindered Blizzard's ability to execute things as originally planned. Fortunately, fans will still be able to watch the best Overwatch teams in the world duke it out for a chance at making history (and earning an obscenely large sum of money).
The postseason format will remain unchanged. For additional information (including map pool, map order, schedule, and regional seeding) head over to the official Overwatch League website. There you'll find all the nitty-gritty details!
Whether or not this change will result in a balanced state of affairs still remains to be seen. In any case, it was the only possible option given the current state of the pandemic. Unfortunate, no doubt, but the show must go on.