Garena Free Fire Max Releases: A Solid PUBG Mobile Clone That Runs Well
---
Garena Free Fire Max is one of the most popular mobile battle royale games that you can download on Android and iOS. Though it does not get the same love and notoriety that other titles like Call of Duty Mobile and PUBG Mobile get, it is still a highly successful game that millions play regularly.
Garena Free Fire Max Is Now Here
---
This has led from the original game known as Garena Free Fire to the new title that has the name Max added to it. Though it is not at all a sequel to the original game, it is simply more of an expanded version that features more updated graphics and performance for new and existing players to check out.
What the developer touts it as is a premium experience that is there to offer the best possible version of the Garena title. Garena Free Fire Max is a revamped version of the game that features better graphics that are meant to be among the best in the entire genre on mobile.
It is also meant to have a new "Ultra HD" resolution that comes with breathtaking effects that players can see on the deserted island that you play on. All in all, though, it is by and large the same exact game that you have played before with Garena Free Fire, but looking better than ever.
That means that it is the same battle royale title that features 50 players competing against one another to see who will be the last person (or team) standing at the end of the match. Matches are still meant to be only around 10 minutes in length, offering a bite-sized experience that is tight compared to some of the other battle royale games.
Like in other games of the same genre, Garena Free Fire Max is all about scavenging for items, weapons, ammo, and more in order to have the best chance of beating the other players on the island. In the process, you can create a squad of up to four players to tackle matches together.
There is in-game voice chat available that you can use to talk with your teammates and coordinate in order to win the match. There is also the exclusive Firelink technology that Garena Free Fire Max uses that will allow players to log into their existing Free Fire account to play.
What this does is make sure that your existing progress and items from the original Free Fire will carry over into the new version of the game. All modes are available across both titles and you can even play with other users no matter which version of the game that they are playing.
Our Impressions: A Solid PUBG Mobile Clone
---
With all of that in mind, I had the chance to check out Garena Free Fire Max for myself at the time of its launch. What is worth noting here is that, if you've read my content on this site before, you already know that I am a huge fan of battle royale games and the mobile iterations, in particular.
I still think that Call of Duty Mobile has one of the best battle royale game modes of all time and I enjoy it pretty regularly. However, despite the popularity of Free Fire, I have never actually checked out the game for myself to see what it is all about.
So, with the revamped and better-looking version in Garena Free Fire Max, I knew that I had to see what the fuss was all about. In the end, I came away from the game with mostly positive thoughts, but ultimately a bit confused about why exactly I would, personally, recommend this game to anyone.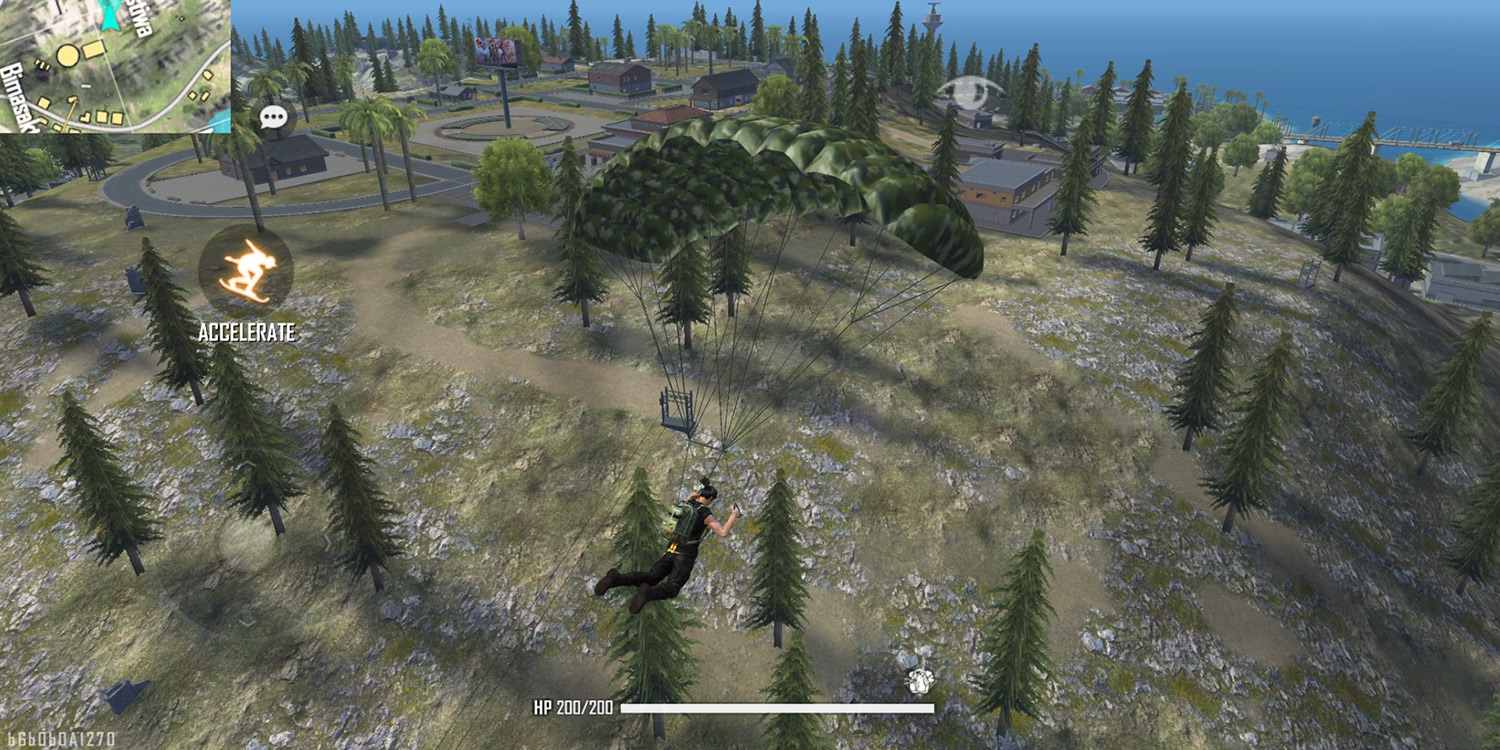 For starters, there is the fact that Garena is overall a pretty solid and competent PUBG Mobile clone. It is without a doubt most similar to that game, right down to the look of the game, the feel of combat, and other movement details that heavily remind me of PUBG.
This is not necessarily a bad thing as basically any popular battle royale game today owes it to PUBG for starting it all. However, other games like Fortnite and Apex Legends have carved their own niche by feeling and looking a lot different than what PUBG does.
However, when it comes to Garena Free Fire Max, it looks, feels, and plays very similarly to the progenitor of the genre in PUBG and its mobile counterpart. As a former PUBG fan, it was a game that I immediately felt right at home with, which is both a great and bad thing.
The good part is that it is an alternative for those players who like the PUBG atmosphere but maybe are tired of that same game over and over, and want to try something new. At the same time, though, Garena does little to differentiate itself from PUBG Mobile and provides little reason to choose it over the latter.
There is the fact that this is the Max version, which means better graphics, resolution, and other changes, but it is the same game. If you are a huge Garena fan and have a device that is capable of enjoying this new version to the, ahem max, then you should definitely download it.
What I will say, though, is that the game is rather large and, normally, I do not have a hard time downloading mobile games on my iPad with them finishing in a moment or two, but Garena Free Fire Max took quite a while to download and install, so that is worth noting, at least for iOS users.
Graphics and Performance Are Good
---
For starters, there is the main part of Garena Free Fire Max that most existing players will be wondering about: the graphics and performance. Overall, I would say that the graphics are pretty good and the performance is stellar, but there is nothing too special outside of it.
I think that, as mentioned before, the look is very similar to PUBG, which was honestly a bit outdated when it first came out in my opinion, so I do not have much to say about the style. The actual graphics are just fine, not really pushing the boundaries of what mobile can do, but not looking bad either.
As for the resolution, this is probably the most notable part of the graphics side of Free Fire Max as it looks quite crisp and clear, something that I would say that PUBG Mobile has struggled with in the past. But, at the same time, it points out the issues in buildings, characters, and so on that are not too detailed.
What I do appreciate about Garena Free Fire Max, though, is its performance. This is an issue on mobile with other battle royale games and even console games that struggle to handle this problem at times with performance issues, frame rates, and more.
However, even on the ultra settings on my now outdated iPad mini 5 and everything maxed out, the performance was super smooth in a very impressive way. Over the course of the few matches that I did, I never really had any notable performance issues, which is an achievement on its own when compared against its competition in the mobile space.
Controls Are a Bit Wonky
---
When it comes to the actual gameplay of fighting enemies and movement, this is also where Free Fire gets a little bit weird in my opinion. The controls of the game are strange, to start with, with how the weapons, switching weapons, reloading, and the like are a bit strange to me.
I think that having all of the weapons in the top right corner is an interesting touch and one that makes it easy to switch between them, but it is a bit confusing at first, too. Not knowing exactly how to reload a weapon is a bit odd and something that had me confused when first starting out.
Not having a dedicated reload button among the other buttons, like crouching, jumping, and the like is something that threw me off until I realized that I could just press on the weapon itself to make it reload and select the other weapons that I have equipped to switch to them automatically.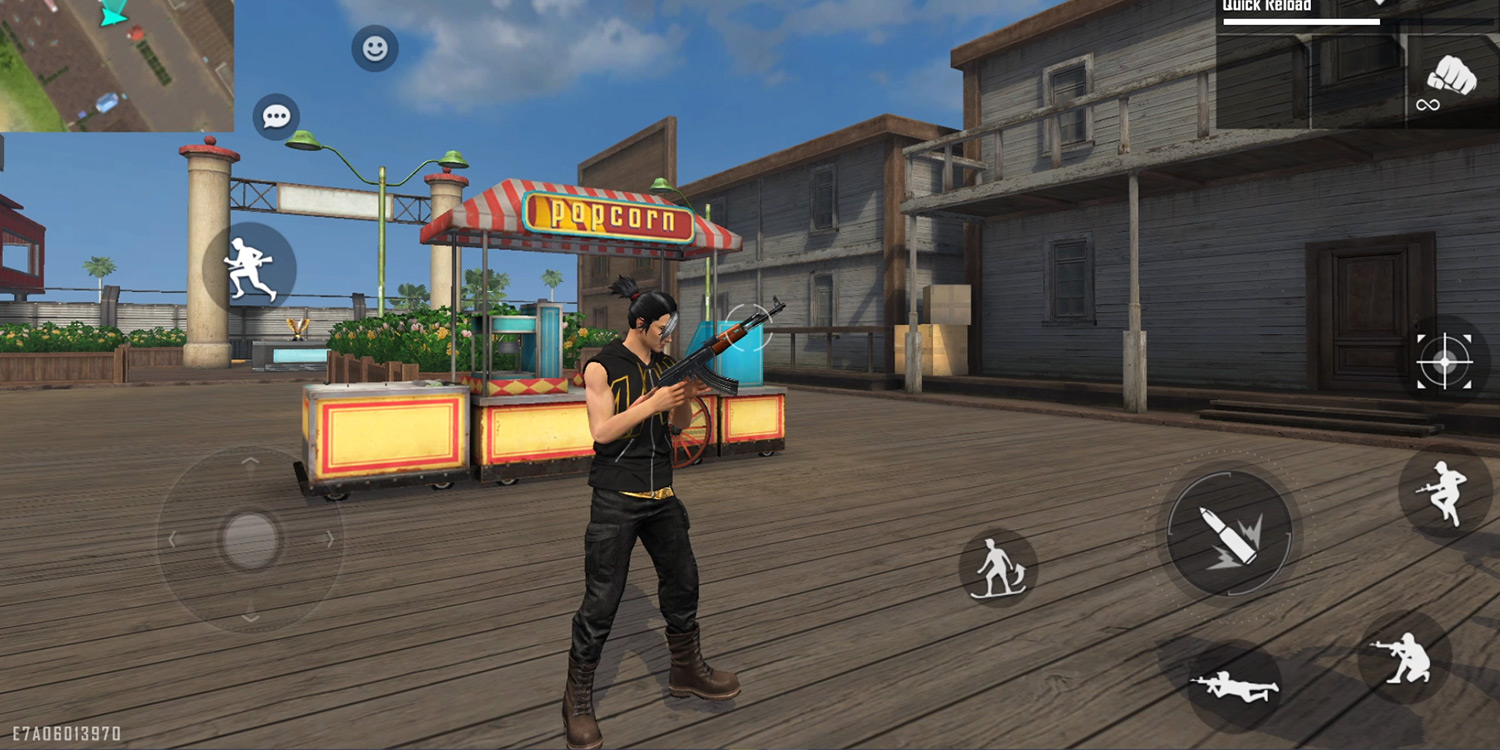 It becomes quick to use and intuitive eventually with a little bit of practice, especially given how different it is from what I'm used to with Call of Duty Mobile and Fortnite on mobile. However, while that is something that I am able to get used to, I do think that the general movement is a bit wonky.
It is pretty slow, especially when you have a gun that makes it more noticeable to me than in other games, making me want to switch between melee and guns when running around. This makes the game a bit more cumbersome than necessary.
Then there is the actual aiming and shooting at opponents. It is quite user-friendly, making it very easy to target and hit opponents even from long distances, but it also takes the skill out of it. I was easily winning every single fight I was in without any contest at all since I could just pick them off from across the town with just an assault rifle.
This is unfortunate to me since PUBG, Call of Duty Mobile, and Fortnite alike have skill involved in their gameplay. What makes it even stranger is that the gameplay is all manually-based unlike games like Call of Duty Mobile where you can have automatic fire on. Even still, I actually found it easier to play than COD Mobile.
To make matters worse, though, there is no official controller support in the settings for Free Fire unlike other similar titles. I'm sure you can use it but I did not see the option in the menus, which could help make the game feel a bit better at least as the touchscreen controls were not doing it for me.
Pacing Is Nice
---
However, one of the most key features of this title is the pacing of the game given that it has half the usual player count of other games with only 50 in a match. The overall pacing ends up being pretty nice as I found matches lasted around the 12 to 13-minute mark for me going from start to the end.
This is a bit more than the 10 minutes that the game touts, but it still feels pretty nice and surprisingly jam-packed given that there are fewer players. I found that almost no matter where I went on the map, I was bound to land at the same spot as at least one other person.
This is not necessarily because the island is small as it is quite big but it seems that the points of interest are just enough to accompany the 50 players in each match. I also did not have to go far to find other players in the match as well.
Interestingly enough, with the fewer overall players in a match, you would think that this would result in matches dropping into the low digits rather quickly but this was not the case for me. There would still be half the players in a match and we would be in a rather tiny circle, offering some crazy chaos all around.
Speaking of the map, the location of Bermuda that is the featured map for Garena Free Fire Max is very similar to PUBG's original Erangel map. It even has a very similar layout, just slightly rotated to have the bottom island more in the southeast corner.
This only takes away some from the originality that Free Fire has, but it still is a fun PUBG Mobile clone nonetheless. I do not see myself ever going back to it, personally, given that there are several better games out there, but I hope that other games like PUBG Mobile and Call of Duty Mobile are able to have the silky smooth performance of Max someday.