Dota 2 TI10 Team Profile: Quincy Crew
---
All great athletes live in the shadow of their predecessors. Kobe Bryant spent the early days of his career being compared to Michael Jordan. Los Angeles' Shohei Ohtani has had expectations thrust upon him by commentators and by Ichiro Suzuki during Suzuki's retirement speech. In popular sport, everyone must contend with the achievements of those before them. Dota 2 is no exception to this practice, especially as the game enters eleven years of professional competition.
In North America, all teams and players must endure Evil Geniuses' long-standing history as the best American team in Dota 2 history. Other teams and organizations have entered Dota 2, looking to dispatch Evil Geniuses and renew North America as a competitive region for the game. However, as organizations in the United States look to more stable esports scenes with higher visibility and audience growth, there's been little reason to tune into Dota 2 matches happening in the USA. However, Quincy Crew has revived the interest of Dota 2 fans in North America, simply due to their tenacity and the antics of their mid laner, Quinn 'Quinn' Callahan.
Quincy Crew is an anomaly. Named after the street where the team came together in Brooklyn, Quincy Crew has roots in American soil that's been disturbed, upended, and straight-up looted by predecessors. Their decision to remain orgless and compete for Dota 2's most prestigious prize speaks volumes to the American narrative of tireless effort and bold individuality.
We've been doing team profiles on Dota 2 teams participating at TI10. Even though we're already at the playoffs stage, the goal is to provide detailed team profiles on all teams competing to give new viewers and returning fans improved insight for this year's event. If you're curious, check out profiles we've published on Team Undying, Elephant, OG, Team Spirit, Beastcoast, SG Esports, Evil Geniuses, Alliance, Team Secret, and Fnatic. As always, stay on the lookout for more blogs on T10 to come in the future.
Quincy Crew – Real American Dota 2
---
While the appeal to the American spirit and identity may seem cheap and unwarranted, Quincy Crew embodies uniquely American narratives. Arif 'MSS' Anwar is the son of Bangladeshi immigrants, who often prohibited Anwar and his brother from gaming in their free time. As MSS began climbing Dota 2's ranked queue, semi-pros would eventually notice him and extend an invite to IXDL, an in-house league composed of North American community members closely related to the NADota website. With many pegging MSS to be the next breakout star in the North American region, MSS would stand-in for various North American teams during the early days of his career, including Evil Geniuses, Dignitas, and Team Liquid.
At the same time, another name would shortly draw the attention of many players in the North American scene: SumaiL. SumaiL's 2015 rookie year would be bookended by a triumphant win at The International 2015, bringing hope that Evil Geniuses' win at TI5 would bring more attention and activity to the North American scene. NADota Elite League (NEL), an offshoot of IXDL that brought amateur and NA pros together in a weekly league format, exploded in activity as a result of increased attention in the Americas region. MSS would compete in NEL with prominent players, along with SumaiL and his older brother, Yawar 'YawaR' Hassan.
The history of NEL rightfully deserves its own article, but to give a brief summary, it was perhaps the most influential league in North American Dota 2 history in terms of building new talent for the region. Like many other NA Dota 2 professionals, MSS, YawaR, and Avery 'LoA' Silverman would encounter each other while playing in NEL and other tier 2 events in North America. In the meantime, Rodrigo 'Lelis' Santos would be something in NEL's sister league, South American Dota Elite League, while competing for various Brazilian teams.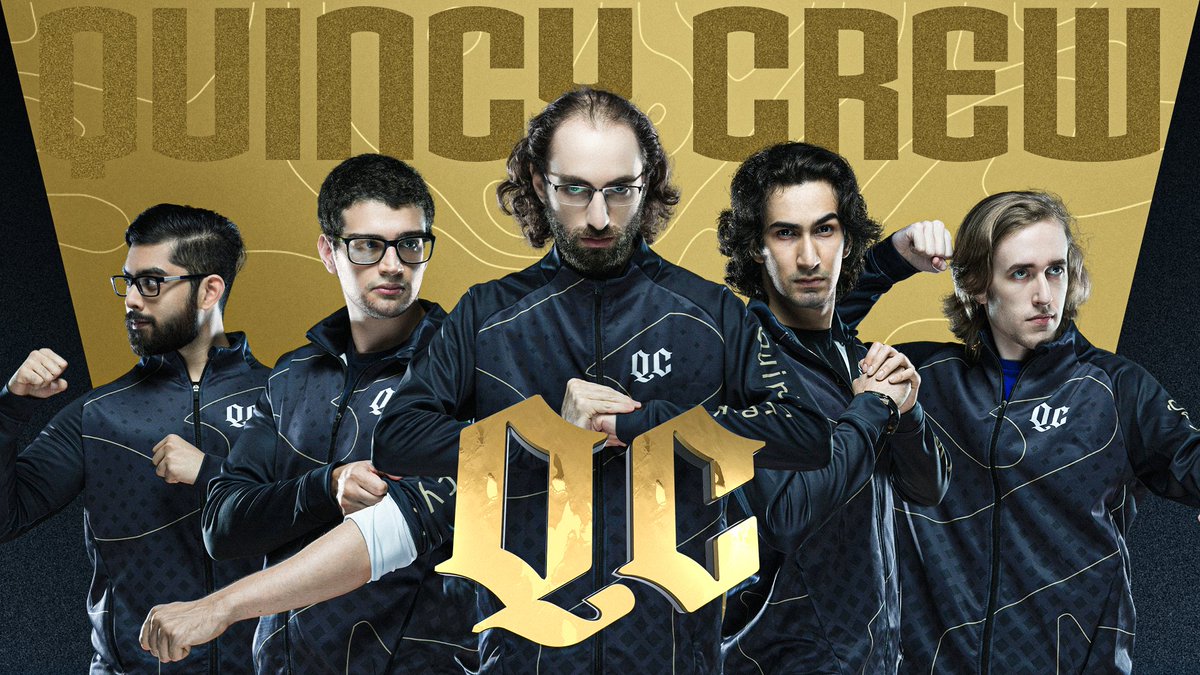 Quinn 'Quinn' Callahan is perhaps one of the few players on the Quincy Crew squad that didn't immediately spring out from the NEL ecosystem. Quinn's consistent presence in high ELO games on the North American server would draw the attention of other North American players. Quinn would play for isGG in 2017 alongside YawaR. When isGG disbanded, Quinn and YawaR would play apart until they reunited on the 2019 Forward Gaming roster alongside MSS. By this time, SVG had retired from professional Dota 2 and Lelis was playing for Brazilian team paiN Gaming. Forward Gaming would be signed by Chinese organization Newbee after the organization folded in order to support their run for TI9. Newbee's run at TI9 showed promise, with the team taking third in their groups. However, they would be eliminated early from the tournament, dropping out of the first round of the winner's bracket to get eliminated by Peruvian organization Infamous, earning the team 9th-12th at the event.
The Newbee squad would disband, and the team's players would return to a team name they had initially used when they first began playing together–Quincy Crew. SVG would return to play with Quincy Crew as the team added Quinn to this new squad, along with Czech player SabeRLight-. This team would eventually be signed by Chaos Esports Squad to compete in the 2020 DPC season. Unfortunately, due to the pandemic, the team would lose out on opportunities to compete in international events, and the organization would shut down their Dota 2 division as a result of the pandemic. In their brief time as Chaos EC, Quincy Crew would take 13th-16th at DreamLeague Season 13.
Without an organization, MSS, YawaR, SVG and Quincy would return to the Quincy Crew name to continue competing for the 2020 season. With MSS switching from offlane to play soft support as a result of the departure of offlaner Biver, the team needed a fifth player to take the offlaner role. Quincy Crew would bring in Lelis, who had been competing alongside North American veterans Universe and ppd on the Ninjas in Pyjamas squad. With a full roster, Quincy Crew was equipped for the remainder of the 2020 season with their eyes set on their goal to compete at the next TI.
Quincy Crew – Recent Results
---
Quincy Crew quickly established themselves as a serious contender for the best Dota 2 team in the Americas region. As Evil Geniuses were struggling with the logistics of playing with their international roster during the pandemic, Quincy Crew took advantage and began dominating in North America. Quincy Crew would take first place at multiple online events, such as BTS Pro Series America events, OGA Dota PIT Season 2, ESL One Thailand: Americas, and Esl One Birmingham 2020: North & South America.
With TI10 announced for 2021, Quincy Crew looked to ensure their participation at 2021's Dota 2 Majors, focusing on taking 2nd place or better at the DPC North American Regional League. Quincy Crew would take second and first at seasons 1 and 2 of the DPC North American Regional League respectively, ensuring that the team would compete at both Majors. Quincy Crew would take 9th-12th at the Singapore Major, and 5th-6th at the AniMajor, being eliminated by teams they had little experience playing against historically. They would repeat their 5th-6th placement at ESL One Summer 2021, shortly before the team went into boot camps for TI10.
During the TI10 group stages, Quincy Crew would play incredibly close games against opponents that they had either never played against or struggled against before during the 2021 Dota 2 season. Unfortunately, despite what's been their best showing of the year, Quincy Crew failed to close out matches against most of their opponents. Quincy Crew only managed to win two series against SG esports and Elephant, two teams who are perhaps the most unprepared teams at TI10. Their games against Team Secret and Vici Gaming showed promise, with Quincy giving Team Secret some of the closest matches Team Secret has played at TI10. Vici Gaming showed some initial instability due to Quincy Crew's tactics, but Vici's team cohesion allowed them to recover quickly, along with their advantageous exploitation of Quincy Crew's habitual teamfighting.
Quincy Crew – Predictions for TI10 Playoffs
---
Quincy Crew show that they have the potential to really succeed at the highest levels of Dota 2, including in TI10. Their ability to coordinate during teamfights, create effective drafts that suit the high-skill playstyle of each individual member, and disrupt the win conditions of their opponents speaks to the team's years of experience and optimization of their team playstyle. However, there are two things that set Quincy Crew back.
While many of the members of Quincy Crew have experience at The International, they have little experience playing against opponents outside of Valve events. The decline of the North American scene means that Quincy Crew have had few challengers to help them improve outside of the bustling South American scene. There's a cap on Quincy Crew's growth that exists simply due to the lack of North American support and infrastructure for Dota 2. If Quincy were to compete in Europe, even at the cost of perhaps failing to qualify for larger events, they would be better prepared for some of the international competition that awaits them at TI10 playoffs.
Another major obstacle Quincy Crew faces is Quinn's emotional volatility. For many in the NA scene, Quinn's outbursts are well-known and well documented. As the team relies on Quinn to perform well on play-making heroes in the mid-lane, any challenge or difficulty he faces as a result of a disrupted laning stage could deteriorate Quinn's fragile emotional state. If teams prioritize Quinn during teamfights, Quinn quickly spirals which leads to fractured team cohesion and increased stress on both YawaR and Lelis to perform. Also, when Quinn tilts, the team tends to fall back onto instinctively teamfighting, which can lead to Quincy Crew feeding kills when they would be better off planning on which objectives they want to focus and fighting around those objectives.
Overall, it's likely that Quincy Crew will at least see 9th-12th at TI10, as their first lower bracket match is against Team Aster, who perform poorly against non-Chinese teams on LAN. The second round of the lower bracket of TI10 will see them facing either OG or Team Secret, who are both European favorites to win the entire event. Quincy Crew stand a better chance against Secret, but it's unlikely that Team Secret will lose against Quincy Crew unless they make a serious error in the drafting stage.
While Quincy Crew is likely focusing all their efforts on TI10, I sincerely believe the team has a lot of potential and should remain together for the remainder of 2021 going into the 2022 Dota 2 season. Organizations and sponsors should definitely keep an eye on this team as they're an effective and entertaining squad of players who have a lot to contribute to Dota 2 and should continue striving for more opportunities to compete.