Best Premier League Team Under 500K | FIFA 21 Ultimate Team Transfer Market Guides
---
FIFA 21 Ultimate Team is reaching its peak, with tons of players actively playing EA's soccer simulation! Heck, that's basically why we're making this FIFA 21 ePL team under 500k guide – to help you stay competitive in a tightly contested race.
With the soccer season entering its final stages, the top European competitions are one massive battleground. Those high-tension matches drive soccer fans into an absolute frenzy, but they also make soccer fans play more FIFA.
FIFA Ultimate Team is still the most popular game mode. Let's face it, Ultimate Team is EA's golden egg, an inexhaustible source of money. People spend tons of cash to get better players. If you're against spending money on packs, then you'll have to grind extra hard and play it smart with your hard-earned coins.
On the bright side, even if you don't have a lot of coins, you can still get yourself a fine squad. A month of active play can yield you close to 500k. I'm not even kidding you here – snatching awards from the Weekend League, Division Rivals, SBCs, and Squad Battles will get you those sweet coins… and a ton of sellable packs too. Don't forget all sorts of objectives you can do to get awesome players. Icon swaps are not to be forgotten either!
The Ultimate Premier League Squad Under 500K
---
Every good FIFA 21 ePL team under 500k needs to have Kante! He's still the player I refuse to play without; he's where my attacks start and where my defenses end. Kante is a beast, next question!
Besides Kante as a never-ending constant, I've seen a ton of unique Premier League setups. Premier League teams under 500k coins tend to be based around a ton of different players. Some top-tier rare cards don't cost a fortune anymore, and their addition was always going to push more unique setups in what's already the most used league this season.
Let's start our FIFA 21 ePL Team Under 500k story off with the goalie. Nothing expensive between the posts, just our good old friend Nick Pope! He's still my go-to goalie – you can get him for around 1 to 1.5k, depending on the platform… yet his ability to block the ball are up there with much more expensive cards.
Defensive Line
---
Next up, the back four! The meta in FIFA 21 has been all about pacey center-backs. Gomez is the best vanilla option out there. I hope you've snatched that sweet 86 Fofana, otherwise, you'll have to spend big on Van Dijk. He might not be the paciest defender out there, but his sheer power and defensive abilities are enough to secure him a spot in our starting eleven.
In fact, let's cut to the chase right away!
Telles OTW | LB | 40k
---
I haven't picked this card out because of its investment potential. I've picked it because it's a solid alternative to Mendy. It's not that I don't like Mendy, I just value something else Telles has to offer.
Telles is a bit slower than Mendy, he's less aggressive too. But, he has more stamina, is better in corners, and most importantly, is a proper set-piece specialist. If you're in a spot where a left-footed taker is a must, Telles will be there for you. My boy Telles does both penalties and free kicks with ease – I'd say that's worth the extra coins…
Gomez | CB | 6k
---
Next up, Gomez, the typical center-back choice for most FIFA 21 ePL teams under 500k out there. Why is he so popular? Well, for starters, his defensive stats are pretty good. But, the thing that sets Gomez apart from other Premier League center-backs is his pace. 85 sprint speed and 78 acceleration – Gomez isn't going to be that defender who can't catch up to the likes of Rashford and Zaha.
Joe Gomez also has a sick in-form card. It's 85 rated with 84 pace. Needless to say, it goes for over 500k these days. Roughly 700k if you're playing on PC. God, I feel sorry for PC FIFA gamers worldwide (myself included).
Van Dijk | CB | 110k
---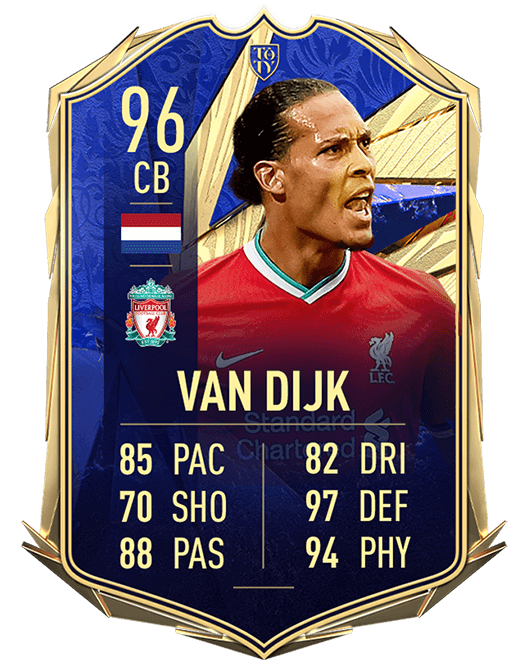 I really hope you guys have that sick 86 OVR CB Fofana… or at least the 84 OVR version. It's not only a sick card, but one of the best ones available at that position. I reckon it can go toe to toe with Van Dijk. If not, you'll have to make do with the amazing Dutchman. He's a bit slower than Fofana, but he's either on par or better in basically everything else.
However, Van Dijk comes at a hefty price. Roughly 110k. 10k give or take depending on your platform. It's a high price to pay for a defender, but you really have no good alternatives in the Premier League. You'd have to start mixing things up with other leagues/nations. But, that's not what we're here for so let's just leave it at that!
Walker | RB | 34k
---
Nothing surprising here! Walker is one of the most popular right-backs in the game, partially because he can link with Gomez and Sancho to form a wicked English triangle. 94 sprint speed makes Walker a proper defensive menace. He'll intercept the ball, he's strong enough to get into fights too, and his crosses tend to be dangerous as well.
He has the notorious long throw-in trait which means you can do all sorts of crazy things with throw-ins in your opponent's third. The anchor chem style is what you should use with Walker, that'll give him the extra oomph to swing past wingers and kickstart counter-attacks.
Midfield Magicians
---
Plenty of excellent midfield options in the Premier League this season! We're no longer stuck with De Bruyne and Pogba if we want proper visionary creationism in the center of the pitch. The likes of Bruno Fernandes and Kante are in the meta; you'll see them together in virtually every second or third ePL team you come up against.
Gundogan POTM | CM | 0k
---
I'm using Gundogan as a cheat here – I'm labeling him as a free purchase with the assumption that most of you already have him. His SBC was a proper steal; you should be ashamed of yourself if you haven't solved the challenge. No worries, the total cost of our FIFA 21 ePL team under 500k has an extra 50k you can spend on your second central midfielder in case you don't own POTM Gundogan. You're welcome!
What's there to be said about the actual card? Well, it's the best-possible upgrade over the original. Gundogan is the most complete ePL midfielder at this price point. With Shadow on, he hits like a truck, both offensively and defensively.
Kante | CDM | 110k
---
I've already expressed my love for Kante, but I guess I have to do it again! He's just phenomenal! Without him, my defense is non-existent. He makes sure the defenders have less work, his interceptions frustrate the opponents, and his on-the-ball controls make him a viable solution for both chance creation and stopping opponents' counter-attacks.
Best of all, Kante's price keeps getting lower and lower. He's currently going for around 100k on PlayStation, 70k on Xbox, and 130k on PC. Let's be real here, Kante is a proper steal at all three of those price points. I can't imagine playing without him in front of my back four, I'm not even kidding.
Bruno Fernandes | CM | 40k
---
Bruno Fernandes is another very common sight to see in ePL FUT 2021 teams. He fits well with a ton of players and is the base of numerous ePL and Portugal hybrids. His
Bruno's 97 OVR card is unbelievable. I've yet to play with it, but I've played against it on more than a few occasions. It's silky smooth, it's quick; it's DANGEROUS! The base card possesses glimpses of that brilliance, but for 40(ish)k, it delivers exceptional bang for your bucks.
Attacking Power
---
Sheer vision and passing ability won't be enough to push you against players who defend well. You'll need good old pace and every last sip of that magical finishing touch. We've spent a ton of money on our attack! It features three speed merchants that will put your oppositions'' defenders to a real test. Sounds interesting? Let's take a closer look!
Rashford | LM/LW | 28k
---
Rashford's price keeps dropping. At the moment, it can be found for just above 35k on PC; and around 28k on PlayStation. If you're playing on Xbox, you'll have to splash out only 20k for this brilliant left-winger!
91 pace, 83 shooting, 85 dribbling, and 78 physical; Rashford's arsenal is packed! Combine all that with five-star skills and four-star weak foot and you'll realize what a steal he is. He's by far the best left-winger at this price point, and a must-have in every FIFA 21 ePL team under 500k out there!
Pepe IF | RM/RW | 67k
---
You'll probably hate me for saying this but – I love IF Pepe more than base Salah. It's just my opinion. For some reason, I can't do sh** with Salah. I've scored a couple of finesse goals, his left foot is a treasure, but I just couldn't develop any consistency with him. In one match he's playing like Ronaldinho, then he's basically invisible in the next five or so fixtures.
Pepe, on the other hand, feels much nicer. His stats are just slightly below Salah's, though the price gap is more than 40k. If you're willing to spend that much more on Salah, I say go for it. Perhaps he'll treat you better. If not, then 86 IF Pepe – the same level of performance, but cheaper.
Werner | ST | 15k
---
Let's address the only downside right off the bat – Werner has three-star skill moves. But, he's basically the only 3-star skills player I can totally tolerate. You see, he's one of those rare players whose pace and attacking vision are enough to make 4-star skills (almost) irrelevant.
He's always looking for space up front; he's always running in between defenders at a rapid pace, effectively avoiding the offside and getting himself clean shots. Werner's IF card is even better, though there are much better attacking options somewhere around the 200k area.
FIFA 21 ePL Team Under 500k | Total Spent – 450k